Cauliflower, self published in Hebrew on May 2017, Published in English by Hardie Grant on May 2018, is the first comprehensive cookbook all dedicated to the queen of the vegetable world.
The thought of dedicating an entire book the white princess came from my Wife, Adi. I have been creating new cauliflower dished for her to try for years, and once she suggested the idea, all the light bulbs over my head switched on. It felt so right, I knew I could devote myself wholeheartedly.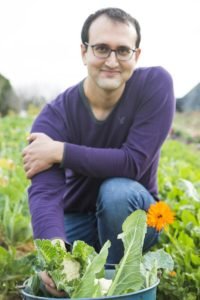 Why a cauliflower cookbook?
On one hand, people love cauliflower. It is available year round, nutritious and delicious, easy to access and handle and can be cooked in every possible way. Yet, when I asked around, I found out most folk know of three, maybe four ways to prepare it. So, I saw a gap I could fill in.
What is so special about your cauliflower cookbook?
Cauliflower is one of the most versatile vegetables out there. Beyond being great in its natural state, be it freshly chopped for a salad or oven roasted (whole or in florets form), it has the innate ability to take on different forms and textures.
For example, cooked florets can be turned in to a thick low carb mash and a silky smooth cream (that in turn can replace dairy cream in pastas and gratins).
Cauliflower crumbs can be turned into fluffy, rice like, grains, usable as a side dish, in stir fries and other rice dishes, so it helps increase vegetable intake while lowering down on simple carbs.
What else can you do with it?
The thing I love about it most is its ability to play along well with many ingredients, from herbs and nuts to meat and mushrooms. It's distinct, yet not dominant flavor integrates well to all types of cuisines and culinary traditions: from spice rich Indian aloo gobi to American comforting mac and cheese.
You can also stuff, braise, steam, roast and fry it, all with glorious results. All of that without even mentioning the vast culinary potential of cauliflower's other cuts: the kohlrabi like stem, the celery like stalks and kale like leaves.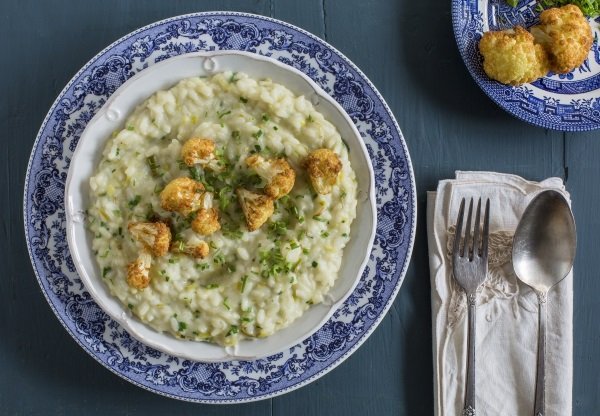 All of these recipes, ideas and techniques are featured in the cauliflower cookbook, taking you to a journey of tasty discovery that will unearth all of the amazing potential of a single humble vegetable.
How many recipes are there in the book?
The 240 page cauliflower cookbook contains over 70 recipes and over 150 detailed images of the final dished and cooking processes.
>> Try a recipe from the book: Whole roasted cauliflower
Is the book accessible vegan / gluten free friendly?
Very much so! Over half of the recipes are completely vegan and all of them can be veganized (by tips found in the book or online). Also, nearly all the recipes that call for wheat products also include tips to make them gluten free.
Where did the inspiration come from?
In my research for the book I collected recipes from Israel and abroad, from family and friends, and from readers that heard of my project. In many dishes I borrowed techniques reserved for other ingredients and implemented them onto cauliflower.
Another great source of inspiration was the internet. Many wonderful cauliflower ideas are trending online in posts and videos.
You will also find recipes and methods developed by me that are featured in the book for the first time.
Where can I order the book?
You can order the book from anywhere in the world with Amazon UK right now, and on September 4th the hard copy will be available on amazon US (where you can already order the Kindle edition)

You can also order the book with Book Depository and other online cook outlets