Today I am happy to share with you my recipe for roasted cabbage, minimal (3 ingredients, for real!), fast (5 minutes work that include washing the cabbage) and hands down the easiest way to turn a whole raw cabbage into a dish that will be eaten and enjoyed before you know it.
It is one of the most requested recipes by my family, and I got the Idea to prepare it when a catering company served roasted cabbage wedges in a Brit Milah I was invited to a couple of years ago.
It solves one of this vegetable's common problems: its tendency to be forgotten. Sometimes it is too large, other times you don't feel like breaking it down. Some times you use just a small part of it (say, for a stir fry), and at the end of the day he just sits there in the back of the fridge, craving some attention.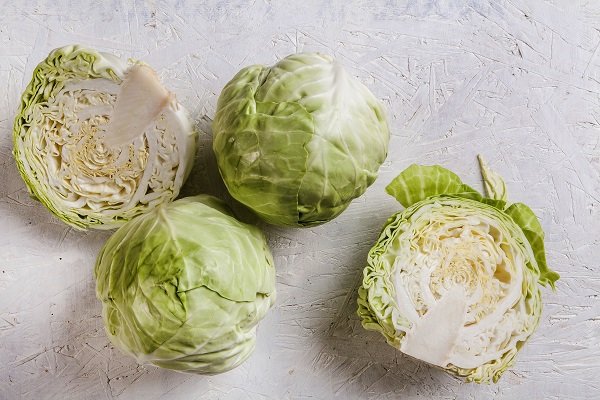 Let's talk cabbage
One of the leading members of the brassica family (that also includes cauliflower, broccoli and horseradish), cabbage was first cultivated in Europe about 2500 years ago. It was introduced the world when Ancient farmers started growing a plant known as wild cabbage (Brassica oleracea) and chose cultivars that concentrated their leaves in a ball, or head like structure.
It is affordable, available year-round and has an abundance of vital nutrients to offer (from fiber and vitamin C to folate and vitamin B6).
Culinarily speaking, it is a jack of all trades: you can slaw, ferment and stuff it, add it to soups and stews as well as stir fries and pasta dishes. However, one thing you don't want to do with cabbage is to over cook it in boiling water.
Over boiled cabbage releases smelly sulfuric compound into the air, creating aromas that have traumatized many. Is this recipe, there is no exposure to boiling water, just to the dry heat of the oven.
>> Watch: chef Heston Blumenthal explains what happens when you boil cabbage (and other veggies)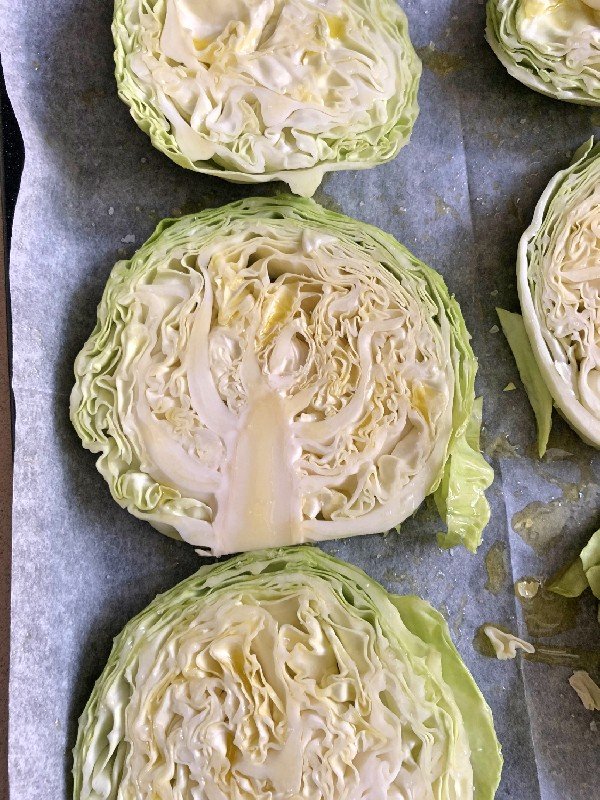 A cabbage's best friend
When you place well oiled very roughly sliced cabbage in a hot oven (a type of vegetable antipasti, if you will), the outer leaves toast, brown and turn surprisingly crisp.
All while the inner leaves steam in their natural juices (cabbage is more than 90 % water), taking on a tender yet chewy texture that is very hard to obtain via other cooking methods.
>> My ultimate leek patties 
Additions and upgrades for your roasted cabbage
Seasoning wise, black pepper, chili flakes, caraway, mustard and/or coriander seeds will only do good here. you can also stir the oil with 2-3 minced garlic cloves for an extra twist.
On the side you can serve it with sour cream or Greek yogurt, as well as a lemony homemade tahini. You can even add a crispy sunny side egg and some crumbled feta cheese on top. I like to serve my cabbage with a quick cherry tomato ad chive salsa – recipe also below.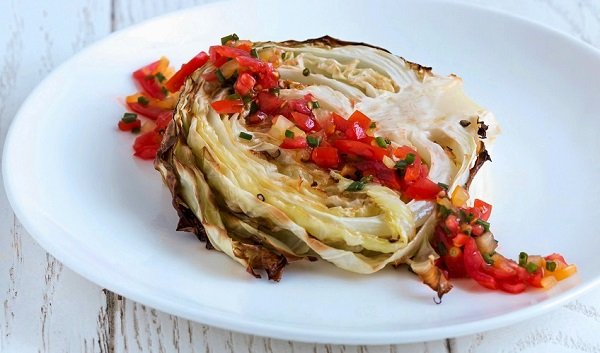 Before you ask:
You can cut the cabbage to wedges or thick horizontal slices. I just like the shape when you cut it vertically.
The recipe works great with savoy and red cabbage (why is it called red cabbage? It's purple!). also works with nappa cabbage (though it is far more watery and best cut to wedges).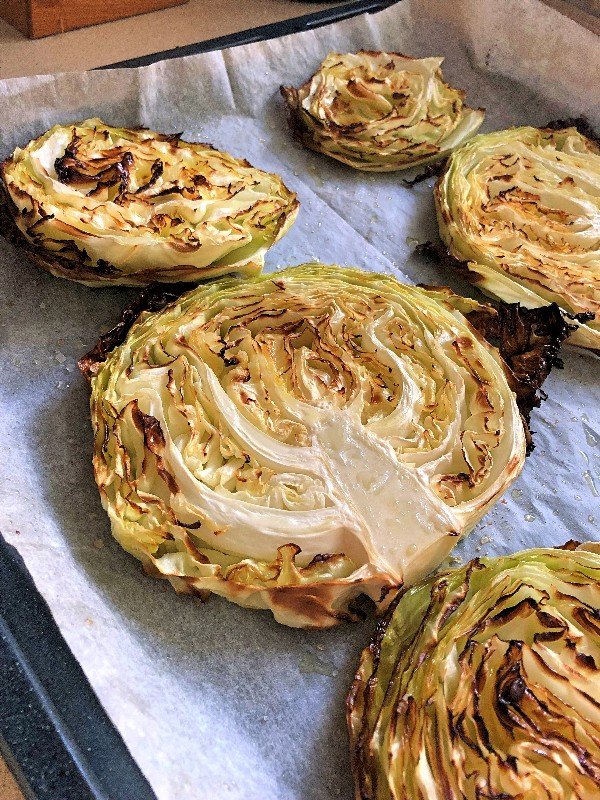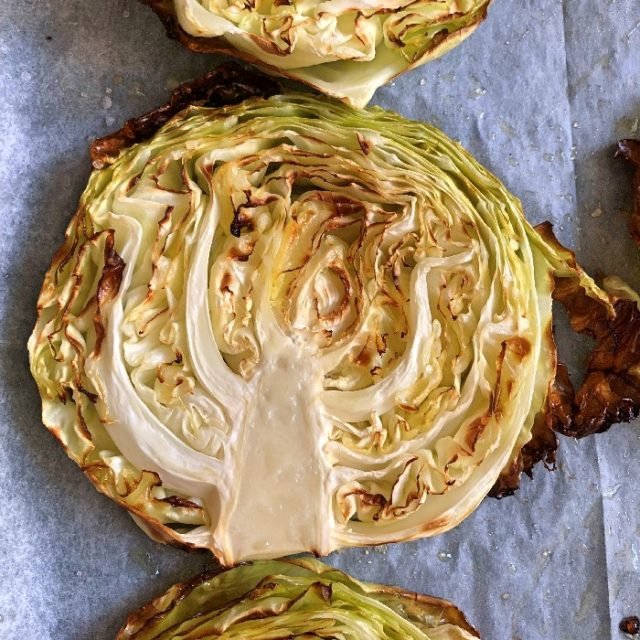 Roasted cabbage recipe
Vegan. Paleo, Gluten free
Ingredients
For the cabbage:
1

medium (1 kg / 2.2 lb)

cabbage (or 2 small cabbages)

3-4

tablespoons

olive oil

fine sea salt

to taste
For the cherry tomato salsa (optional):
large handful

(about 20)

cherry tomatoes (the more colors, the merrier)

finely diced

1-2

spring onions/scallions or 10 chive sprigs

finely chopped to small rings

1

teaspoon

vinegar / fresh lemon juice

or more to taste

2-3

tablespoons

olive oil

fine sea salt

to taste
Instructions
For the cabbage:
Heat your oven to 190 C 380 F and line a baking sheet with parchment paper.


Trim the end of the stem of the cabbage, so you could stand it upright on a cutting board.


Using a long chef or serrated knife, cut the cabbage into 1.5-2.5 cm / 0.5-1 inch slices.


Drizzle half the oil on a baking tray and season it lightly with salt. Place the sliced cabbage in the pan (with even spaces, if you have too much cabbage move some to another sheet), making sure the bottom later is lightly coated in oil.


Brush or drizzle the remaining oil on top and season lightly with salt.


Move to the oven and roast 25-40 minutes, until the outer leaves are brown and crisp and the center is tender. Note that roasting times might vary depending of the thickness of the cabbage and other variables. Rotate the pans halfway during baking if you have used two sheets.


Serve warm or at room temperature, alongside tahini, Greek yogurt or a salsa of you liking.

Keeps refrigerated for 3-4 days.

For the tomato salsa:
Place the diced tomatoes and chopped chives / spring onions in a bowl. Season with olive oil, salt, pepper and vinegar to taste and serve at once, alongside the cabbage.