Today I'm going to share with you my mashed potatoes recipe, that is both full of flavor and super easy to make, with one small hack that really changes the game. Great as a side dish for hearty stews, casseroles and all kinds of meatballs, it is a must have recipe in any home cook's repertoire.
When thinking of a classic French style mash, you think of boiled peeled potatoes mashed together with butter, cream and milk. These dairy products certainly enrich the flavor of your potatoes, but for your mash to be the most potato-y, you don't need to look any further than the potato itself.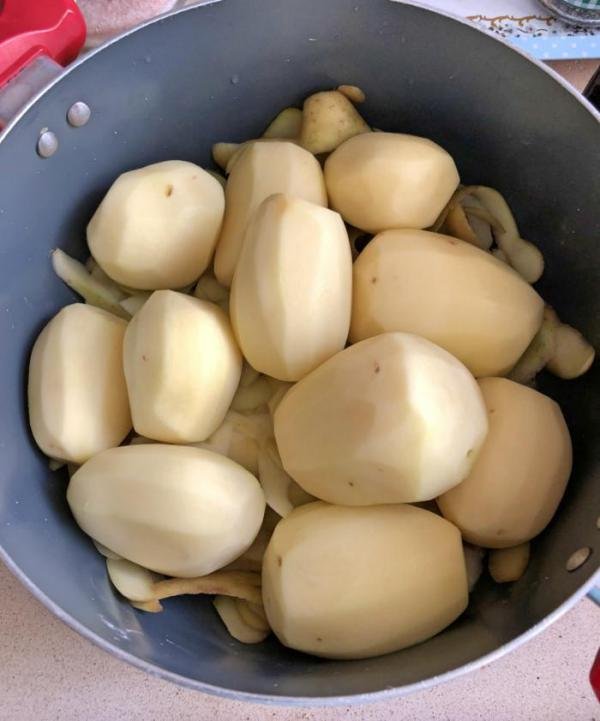 Most, if not all, of the potato's flavor comes from its skin. It holds almost all of the nutrients the spud contains and contributes a deep earthy aroma to your mash.
Ever tried tasting the water after boiling whole potatoes? The water tastes like… potatoes! and when you add these water (that are really now potato stock) to the mash you infuse it with rich, natural goodness.
It took me several years to develop this recipe, as simple as in may sound. During my days as a line cook we used to serve amazing mashed potatoes. We used to cook the potatoes skin on, and then carefully peel them while piping hot. They were quite a hassle to make.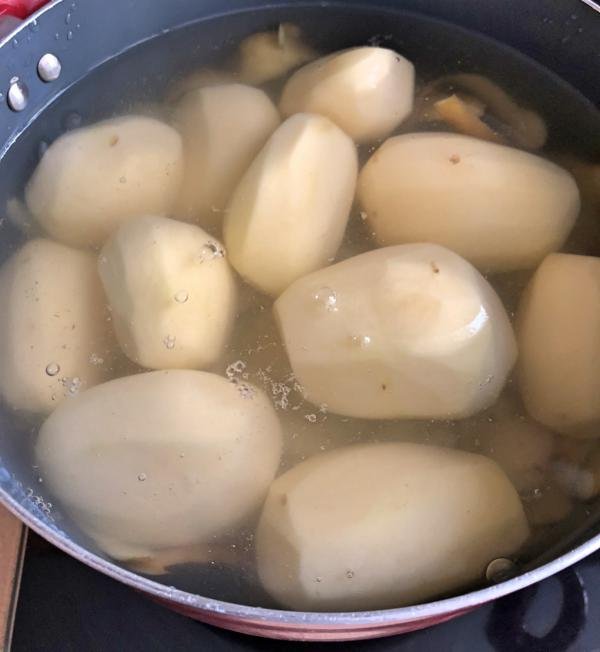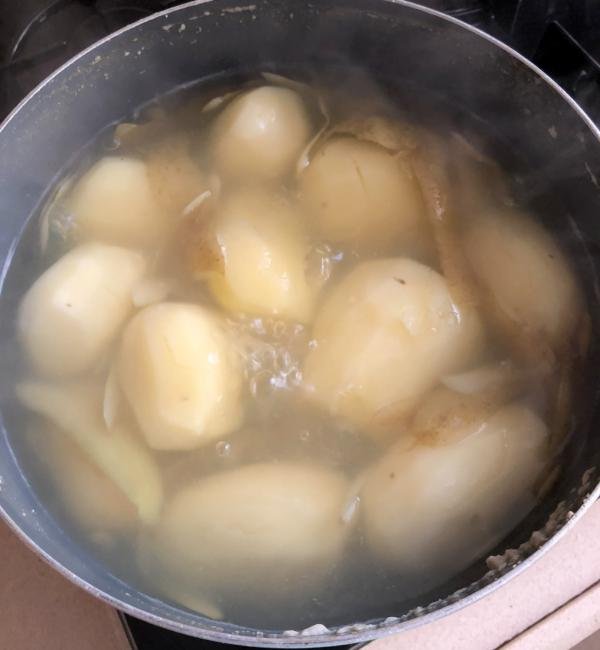 Then I watched Heston Blumenthal's' show, 'Is search of perfection', where he added a muslin cloth of potato skins to a pot of boiling milk and cream to enhance their flavor.
I don't have any muslin cloth at home, but that got me thinking: all I needed to do was to cook the peeled potatoes along with their skin! So, I just peeled the potatoes above my cooking pot – I let the skins fall to the bottom of the pot and place the peeled potatoes in a bowl until they are all peeled.
Then I laid the potatoes on top of the skins, covered with cold water and cooked! Instead of adding loads of milk and cream, I use the potato cooking water and olive oil as the liquids that enrich and lighten my mash. That simple.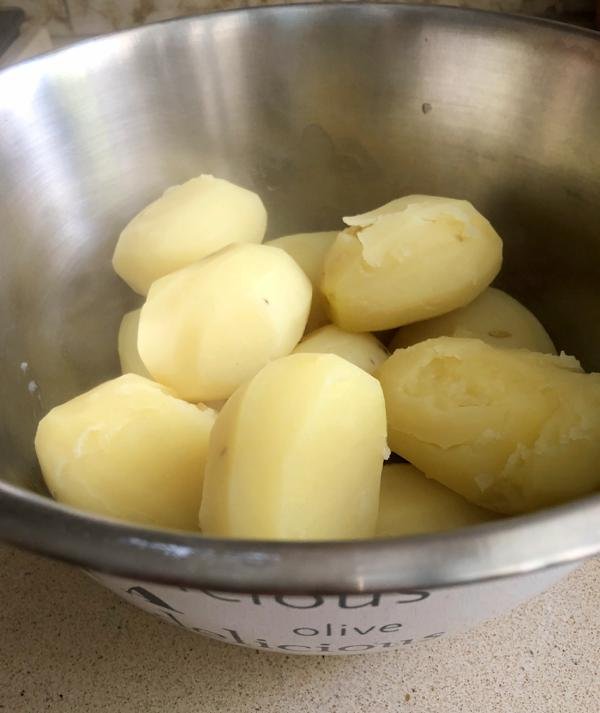 The right potato
The best potato for a mash is dependent on your whereabouts in the world. In the US Yukon gold and in the UK Maris Piper and Désirée are considered to be the best for the task. You should ask your vendor for a starchy potato – these ones have the best texture and liquid retention ability.
The potato itself is like the storage room of the potato plant, it uses starches (long carbohydrate molecules) to store and preserve the energy collected by the plants leaves. Starches have a unique ability to absorb liquid when hot, a key attribute then in comes to..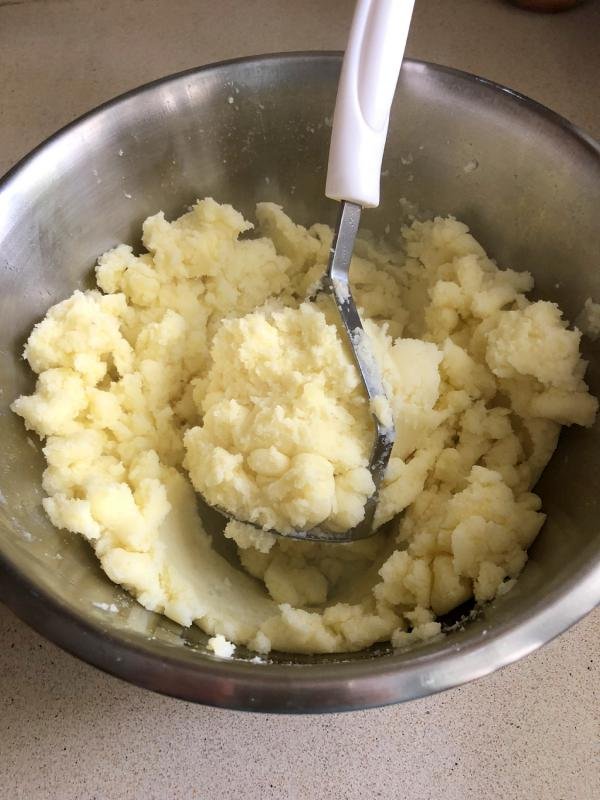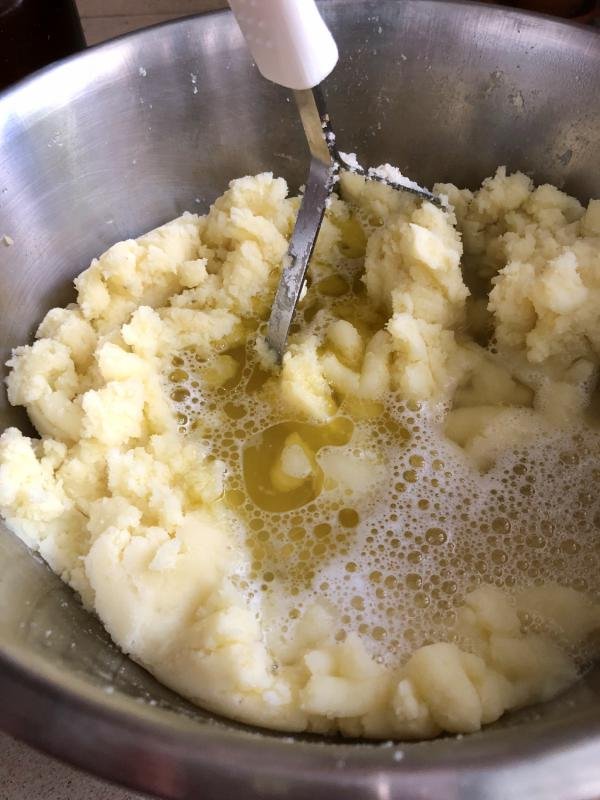 Mashing time
I admit that I'm old school when it comes to mashing my potatoes. Though I do have a potato ricer, most of the time I use the simplest metal masher I have at hand. It is cheap and very easy to clean.
Remember to always mash the potatoes while still hot, and don't overwork them.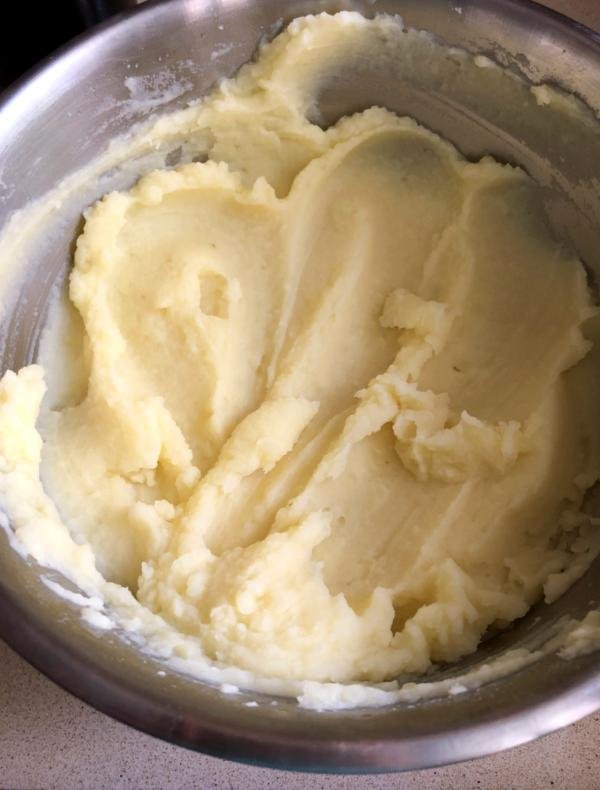 And never everrr use electrical devices like a blender or a food processor: they cause the starch granules to burst, leaving you with a super gloopy glue-like consistency.
You can, of course, add some butter or hot cream to your mash, but I urge you to try this neutral version fist, then build upon it.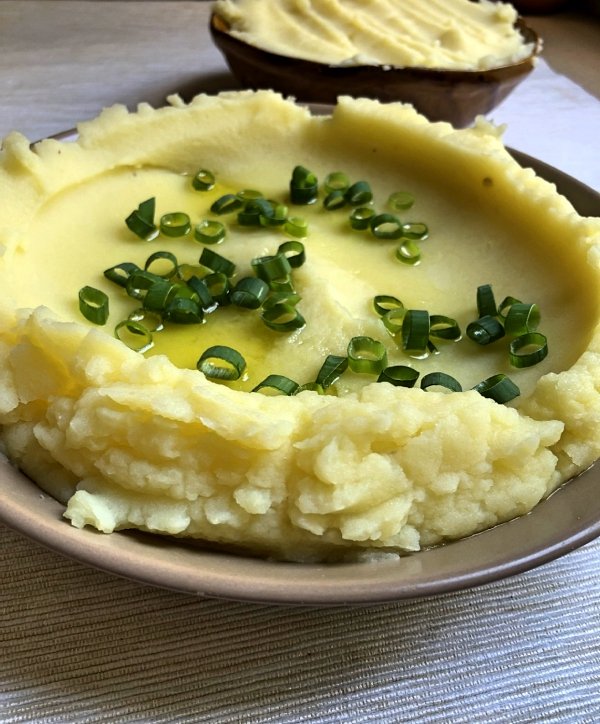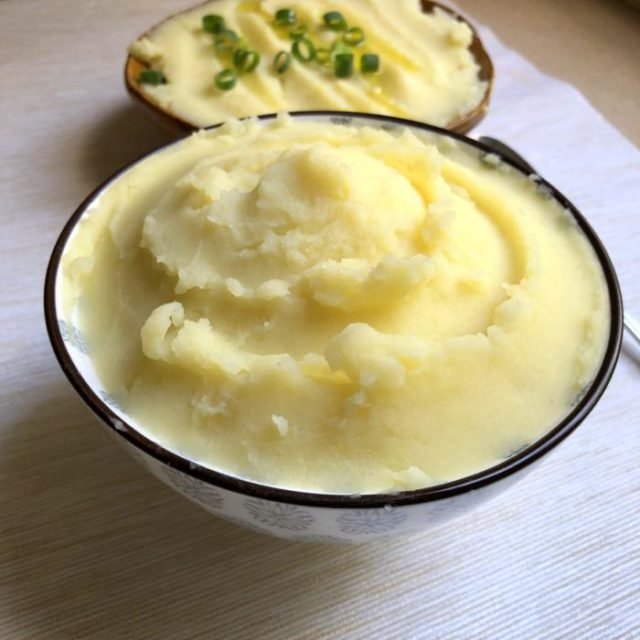 Light and super easy mashed potatoes recipe
Ingredients
5-7

medium size starchy potatoes (around 1/2 KS 2/5 lb),

well rinsed and scrubbed if dirty

1/3

cup

good olive oil

fine sea salt

to taste

water

to cover

3-4

spring onions (scallions)

cut to thin rings, for garnish
Instructions
Peel the potatoes and place the skins at the bottom of a medium size pot. Place the peeled potatoes on top of the skins. if the potatoes are not uniform in size, halve or quarter the larger ones as needed.


Cover with cold water (about 1 cm / 0.5 in above the potatoes) and place over high heat.


Bring to the boil, cover and cook over medium heat for another 30-40 minutes until the potatoes have completely softened: a knife or fork that is inserted into the largest potato comes out easily.

Using a slotted spoon, remove the potatoes from the pot into a large bowl or another pot.


Mash the potatoes with a regular masher or fork until the potatoes are broken. ((or pass through a ricer).


Add 2-3 ladlefuls from the cooking water and the olive oil and continue to work the mash until you get a fine textured puree.


Add salt to taste and more olive oil and cooking water, if you want a less thick mash.


Serve immediately, garnished with chopped green onion.


Unused mash keeps in the fridge 3-4 days, best reheated in the microwave.