I LOVE roasted sweet potatoes. For me, it is the best way to prepare one of the tastiest veggies out there, glowing with a deep orange color, creamy texture and a rich sweetness that is hard to resist.
There are many things you can do with sweet potatoes (and yams): can mash them, turn them into soups, dice and bake for salads and pasta dishes and more. They are rich with fiber and beta carotene, so they don't only taste good but are healthy too.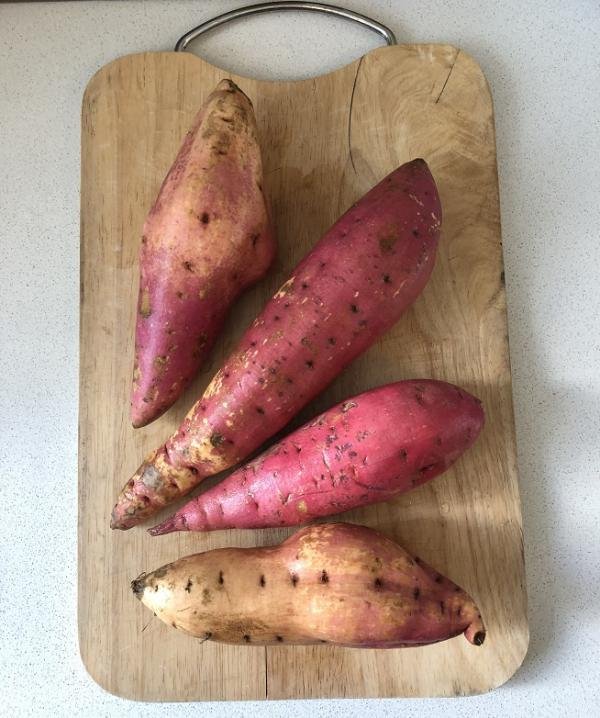 The recipe I share went totally viral when I first published it in Hebrew a couple of months ago. The humble vegetable comes out of the oven delicate, almost melting on the inside, crisp and caramelized on the outside and utterly irresistible.
With over 360 thousand views on Facebook and over 50 thousand on both YouTube and Instagram, and thousands of pictures I received from readers and followers who made this recipe and declared it to be the tastiest sweet potatoes in the world (YAY!).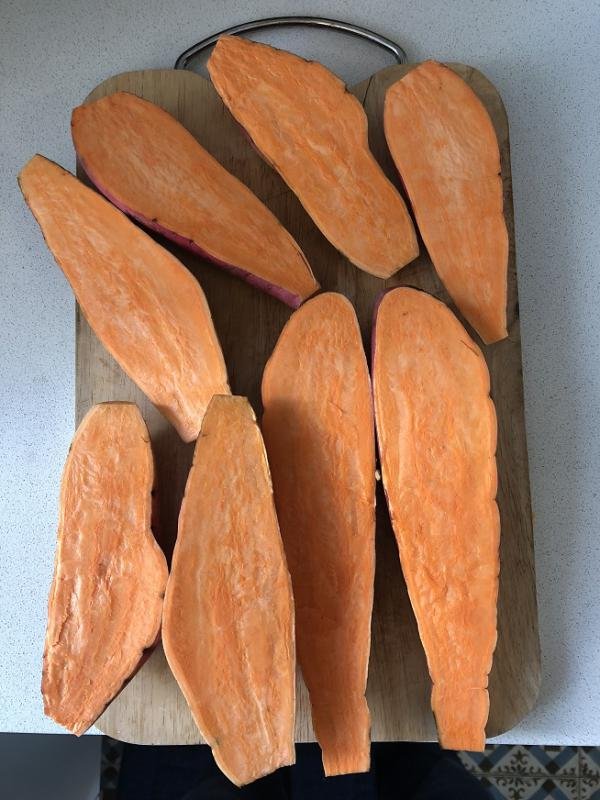 What makes them the tastiest?
Everybody knows that when you bake sweet potatoes whole, as is, they turn out great, and whenever I baked them sliced or diced, the part I loved most was the slightly burnt and crispy parts. Here I combined the best of the two ways to bake them.
I halved the sweet potato lengthwise – so that their flesh will have contact with the hot baking pan.
As the sweet potatoes soften in the oven, some of the natural sugars they contain are released, caramelizing and turning golden and crisp.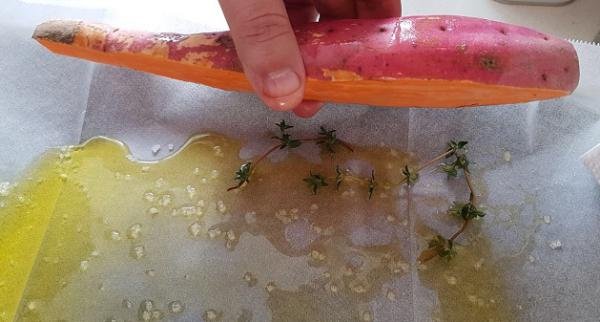 The secret to success: oil!
In order to achieve this crème brulee like layer, you have to be liberal with the oil. It conducts the heat from the pan very efficiently – and you oil both the pan (so you can coat the cut side of the sweet potatoes) and the top. The more olive you'll use – the crispier the final result will be.
I used olive oil but coconut oil and other rich oils like ghee (clarified butter) are wonderful here.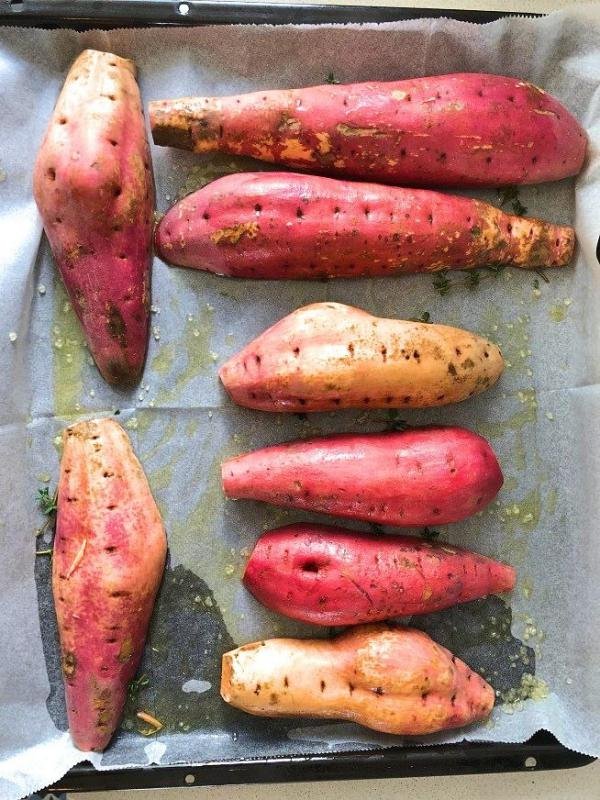 Seasoning wise
I used only kosher salt and some thyme sprigs to add an herby aroma. You don't have to use the thyme at all, and you can replace is with similar herbs like rosemary, sage and oregano (dried versions are great too). You can also add chili flakes to spice things up.
Patience is a virtue
Exact baking times might vary from one oven and one batch of roasted sweet potatoes to the other. So, if you don't get the crispy edges just continue baking for a couple more minutes. I like to start checking for the golden crispy layer after 35 minutes (mind the hot steam when opening the oven).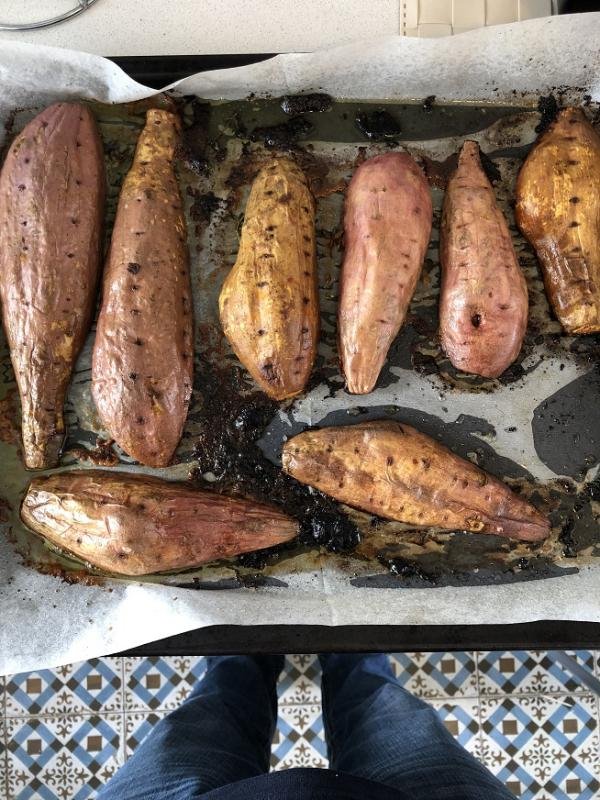 Once you take the tray out of the oven you need to let it cool down for about five minutes. During this time the sweet potatoes will absorb most the oil from the pan becoming even more rich and sumptuous when you turn them over (hi, I said they are the tastiest roasted sweet potatoes, not the healthiest ; ) )
Not just roasted sweet potatoes
This method works with all sizes of this root vegetable: from baby size to large ones (I like cutting large ones to large quarters rather than halves), baking times might vary as mentioned above.

This roasted sweet potatoes recipe also works with purple and white varieties, as well as with yams.
furthermore, many other hearty vegetables can be roasted using the same technique, for example: potatoes, beets, fennel, sunchokes, kohlrabi, eggplants, carrots and more.
Doubling up
Just like my recipe for roasted cabbage, you will see these sweet potatoes devoured in mere moments. If you are making a double batch, baking two sheet pans at a time, make sure to rotate the pans halfway through baking for even heat distribution.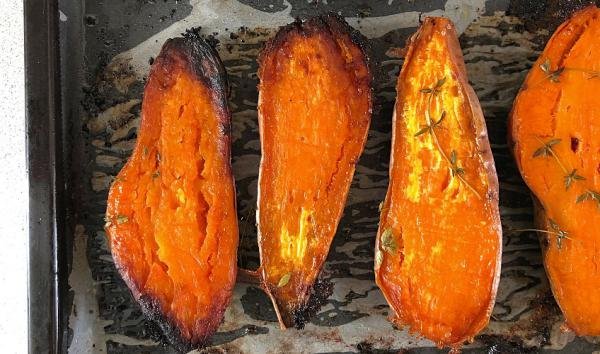 To serve
While the really do stand out on their own, you can serve them with some sour cream, labne or crème fraiche from the dairy department, or alongside fresh pesto or herb salsa.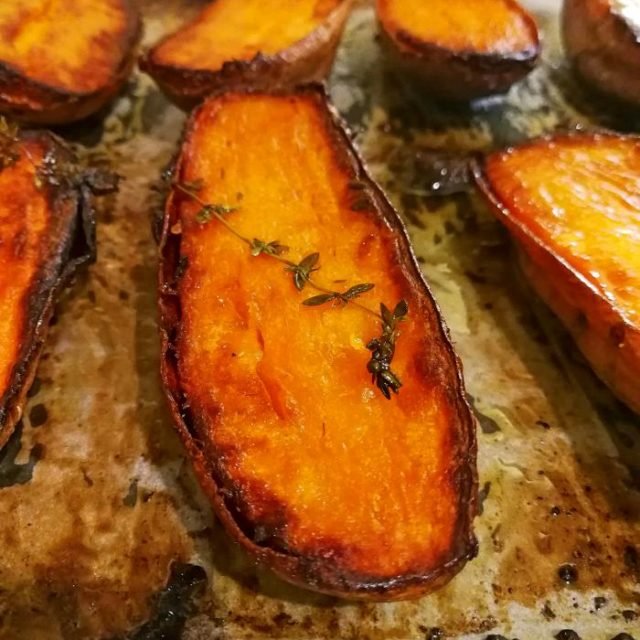 Oz Telem's Crispy baked sweet potatoes recipe
Ingredients
5-6

medium size sweet potatoes

(or yams)

5-6

tablespoons

olive oil

kosher salt

to taste

10-12

thyme sprigs (or rosemary, oregano or sage, and even dried herbs work)

optional
Instructions
Heat your oven to 200 c (400 f) and line a baking sheet with parchment paper.


Thoroughly scrub and rinse the sweet potatoes to remove any dirt from the skin.


Half the sweet potatoes lengthwise (and trim the ends if they are not so fresh)


Drizzle the pan with most of the olive oil, scatter the pan with kosher salt and thyme sprigs.


Lay the sweet potato halves, cut side down, making sure the cut side is coated in oil (you're basically frying in the oven) Also, make sure all the thyme sprigs are covered in sweet potatoes or they will burn. There should be even space between the sweet potatoes.


Brush or drizzle the remaining olive oil on the skin side or the sweet potatoes.


Bake 40-50 minutes until the flesh is completely tender and soft and the sides are slightly burnt and crisp. Exact baking times might vary so if you don't get the crispy edges just continue baking for a couple more minutes.


Remove from the oven, allow to cool for 5 minutes then turn over and serve (the skin is now completely edible!)

Top photo by the talented Tal Adin
And here are some sweet potatoes you baked with my recipe: