I must confess that I am a hummus-aholic. I can enjoy a good plate of hummus in any time of the day, be it for breakfast, lunch or dinner. Though there are some hummus stands I visit regularly, there is nothing better than making if fresh at home.
Chickpeas (garbanzo beans) are the go to ingredient for hummus making. In fact, the Hebrew and Arabic words for the legume and spread are the same!
However, making hummus from scratch from chickpeas can be quite a hassle. You need to choose the right type of beans, then you need to soak them overnight (some hummus makers even replace the soaking water a couple of times).
Then you need to cook them for several hours, adding sodium bicarbonate to allow the skins to soften, then, sometimes, you even need to remove the thick skins.
Only after this long procedure you are able to mash or crush the beans and achieve that smooth, lush, spreadable consistency.
Enter red lentils
A pantry staple in the middle east and India, these small, skinless round members of the legume family are very similar in nutritional value, characteristics and behavior to their larger pale cousins. Their small size gives them two huge advantages: they need no soaking and require a very short cooking time to completely soften.
In other words: red lentils enable you to enjoy a plate of homemade, fresh hummus, in under 30 minutes from start to finish.
Even more so, their flavor profile is extremely similar, so most folks will not be able to tell the difference! And to top it all off, lentils are far more digestion friendly, if you catch my drift.
>> Ever tried cornmeal couscous?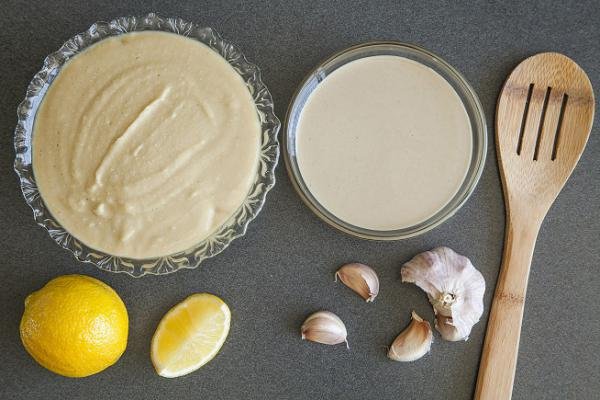 The secret: just enough water
Most recipes that involve cooking red lentils, be it and Indian style dal or Persian soups, call for cooking the lentils in plenty of water. Here, we want them completely tender, just breaking apart, using as little water as possibly to reach this consistency.
If you were to try to make this hummus with watery lentils, you will end up with a runny, rather than a thick hummus.
Both split and whole red lentil work here – the whole ones might need a bit more water and 2-3 minutes extra cooking time to break down.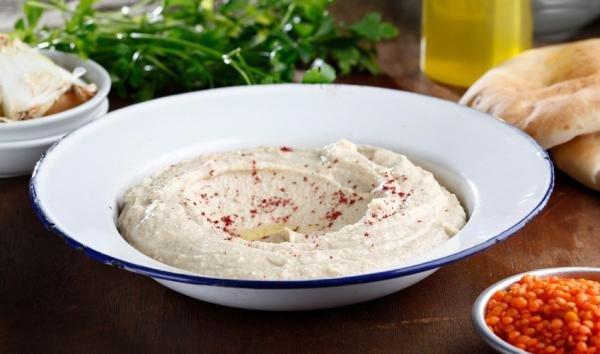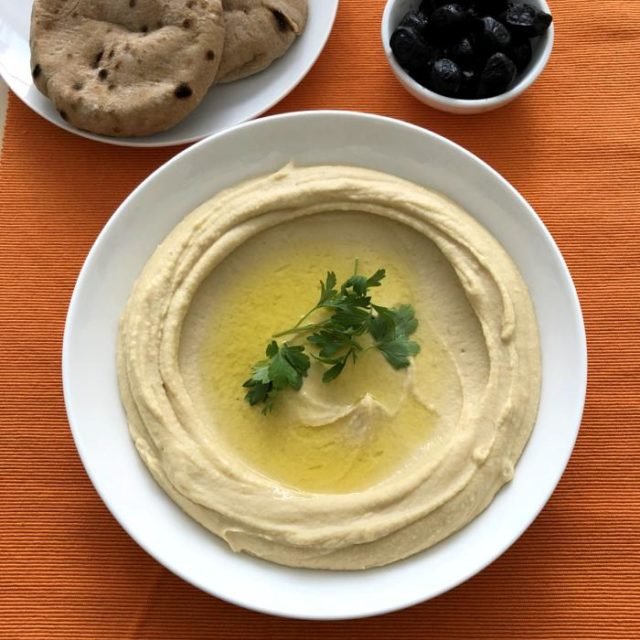 Ingredients
1

cup

red lentils

split or whole

1.5

cups

water

or more if needed

1/3-1/2

cup

good quality tahini (sesame paste)

2-4

tbsp

lemon juice

freshly squeezed

1

small clove

garlic

optional

1/2

tsp

ground cumin

optional

fine sea salt

to taste
Instructions
Place the lentils in a fine sieve and thoroughly rinse under cold water. Drain.


Place the lentils in a medium size saucepan. Add the water (1.5 cups) and bring to a boil.


Cook over medium heat, stirring occasionally, for 12-15 minutes, until the lentils are completely tender but not broken apart, if the lentils appear to dry, add some more water and stir.

If you have water in your pot when the lentils are completely done, place the lentils in a fine sieve to allow access water to drain


Puree the cooked lentils in any way you see fit: You can use a food processor, countertop or handheld blender (placing the lentils un a tall cup), and even a potato masher for a rougher texture.

Move the pureed lentils to a large bowl. Add the tahini, lemon juice and garlic + cumin, if using. Stir well to combine. (is using a food processor/countertop blender you can the tahini and other ingredients directly to their bowls).

Taste and add salt and/or more lemon juice to taste.

If your hummus is a bit loose, add more tahini. If it is too thick, thin it down by adding a tablespoon of cold water each time until you are happy with the consistency.

Serve at once, alongside pitas, pickles/ olives and a fresh tomato salad.

The prepared hummus keeps for 3 days in the fridge.

Recipe Notes
It is more then recommended to cook a large batch of lentils in advance, then divide to small containers and freeze for future hummus preparations. They keep frozen for 5 months!