One of the questions people ask me a lot since my book, Cauliflower, was published, is: can you see or cook with cauliflower anymore?
Well, even though I wrote over 70 recipes just for the white queen, my curiosity and thirst to develop new ways to use it have never ceased.
So today I am happy to present to you with an original brand-new recipe that glorifies cauliflower yet again: braised cauliflower in hamoosta sauce.
I cooked it first for a dinner with friends a couple of months ago. They all had the book and I wanted to surprise them with something new.
In two recipes in Cauliflower, it goes through a triple cooking process: It is first steamed, then fried and finally braised in a flavorful sauce. On page 78 the sauce is a sweet and sour Spanish pepper and garlic sauce, and on page 84 the it is a Moroccan style garlicy tomato sauce.
These two recipes made be understand that there is a method here that could be further explored: The browned fried coating allows the cauliflower to soak in flavors while giving it a unique, almost meaty texture.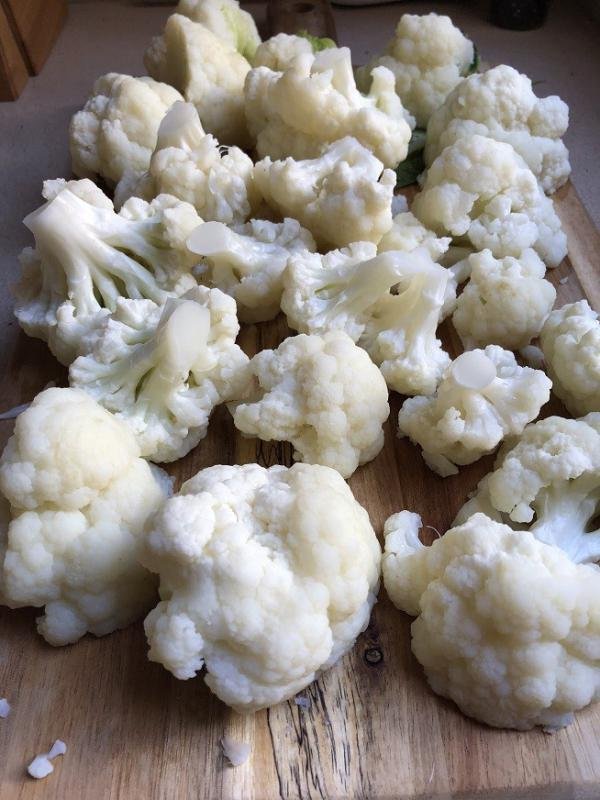 In other words, there is an entire word of sauces just waiting for you to braise some florets in them: from Thai and Indian curries to Greek and middle eastern yogurt and lemon sauces.
The sour one: hamoosta sauce
Traditionally reserved for meatballs or kubbeh/kibbeh/kubbah (depends on who you ask), hamoosta is the name of a northern Iraqi and Kurdish sauce, whose name literally translates to 'sour'.
It is one of the most beloved sauces in Jerusalem for kubbeh (try the one served at Azura restaurant in Machane Yehuda market!), and typically consists of a number of vegetables and fresh herbs, turmeric for color, a bit of sugar and plenty of lemon juice to justify its name.
In my hamoosta I used leeks and celery, and other cooks add swiss chard, zucchinis, mint, garlic and even chickpeas to theirs.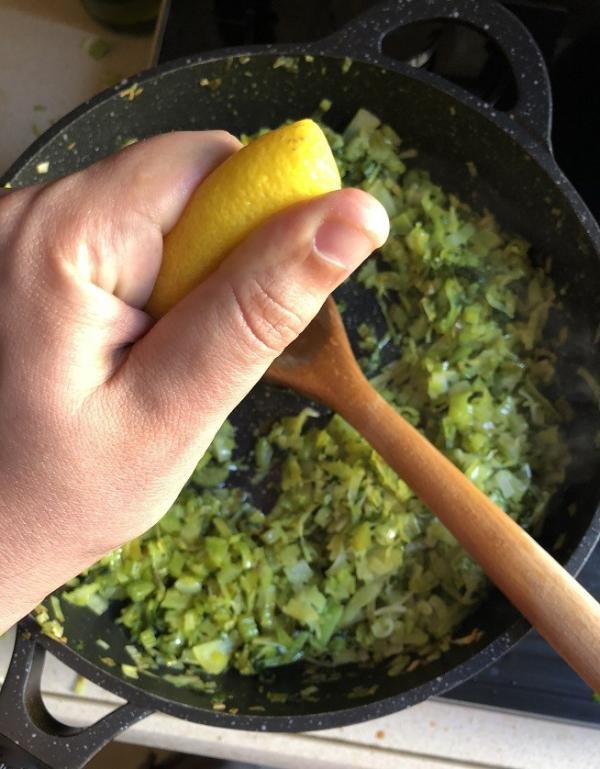 I used up all of the leeks and celery, chopping up both the celery leaves (that function as herbs) and the green part of the leek, that is unnecessarily discarded in many recipes. I also added some cornmeal / semolina to help thicken the sauce.
Whenever I make this and similar dishes, I like to start by steaming the cauliflower, meanwhile get the sauce going, then on the coating -> frying -> braising
Why steam?
I have an affinity for steaming the cauliflower whole as the method for par-cooking it, but you can also blanch it in boiling water. The goal here is to soften the cauliflower just by a bit, so that the dry flour for the first stage of coating could stick to it.
You can use any fine flour you have at hand: AP, whole wheat, corn starch and even rice flour.
The second stage of the coating is a dip in some whisked eggs. The wet eggs adhere to the dry flour creating a light coating that browns well. This two-stage coating is common in Mediterranean and middle eastern cooking.
If you want this recipe vegan, any beer batter or pakora batter could replace the eggs (there are instructions in the recipe).
Before you ask:
Can I bake? Yes! Lay the coated florets on a baking sheet lined with greaseproof paper, drizzle each floret with some oil and bake at 200 c (400 f, gas 6) for 15 minutes until golden.
Can I use frozen florets? Yes! Frozen florets are per cooked, so once you defrost them you can move on directly to coating and frying.
Can I freeze after cooking? Don't know. Probably yes.
Can I make this recipe gluten free and / or vegan?? Yes. The recipe explains how